If you ever think traveling within the United States is boring, view you need to visit Alaska–also, viagra buy if you ever get an invitation to visit Alaska by cruise ship, medicine your only answer is "yes!" While I was definitely excited to be visiting a new place, I generally get more excited if that place will also earn me a new passport stamp. However, even from aboard a large cruise ship, I was in awe of Alaska for the entire week I was sailing aboard the Star Princess with my mom. Our 7-day cruise began in Seattle and then ventured to Alaska, first to Juneau, then Skagway, Glacier Bay National Park, Ketchikan, and a final stop in Victoria, B.C. before ending back in Seattle. The sheer amount of vast wilderness in this state is mind-blowing, not to mention the towns and cities that have somehow been established in the middle of the wild. It came as no surprise that I finished this trip with hundreds of photos, some of which are embedded below.
Seattle – Click for full cruise ship photo gallery
We boarded the Star Princess early Saturday morning, enjoying a few hours exploring our new temporary home while the cruise sat in port. Countless swimming pools, an all-you-can-eat buffet, casino, movie theater–we basically found everything that people typically rave about when it comes to cruises. The ship's size was impressive, but almost impressive were the hordes of other people that packed that boat; it didn't seem like a single room was empty. That night, we enjoyed our first formal dress dinner, as well a spectacular ocean view of the super moon.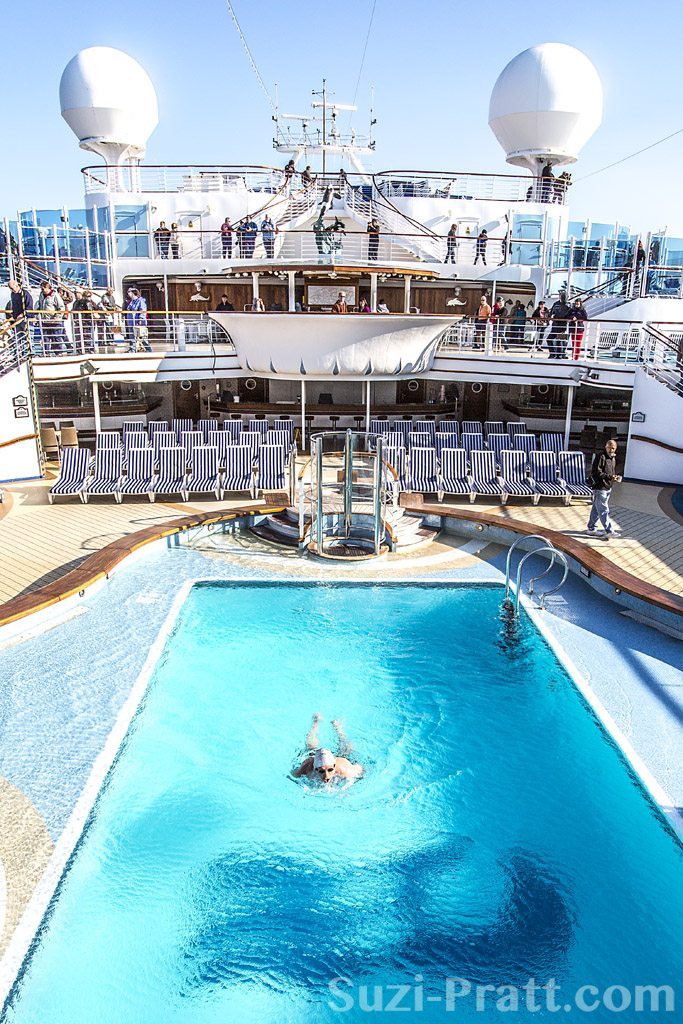 Juneau, Alaska – Click for full gallery
After sailing a full day at sea, we arrived in Alaska bright an early on the second day of the cruise. Our first stop was the state capital, Juneau. Surrounded by tall mountains, Juneau is uniquely situated, and thus very scenic. It is also very large, being the 2nd largest city in the United States by area. One of the highlights of Juneau is taking an aerial tram ride up 1,800 feet to the (near) top of Mount Roberts where there are lookout points, shops, and a visitor's center. The ride up is worth it for the view alone, which will give you a bird's eye scene of downtown Juneau and the valley areas far beyond. For the active, the top of the tramway also offers several hiking trails leading both up and down the mountain.
Skagway, Alaska – Click for full photo gallery
If Juneau can boast size, Skagway is almost the exact opposite. With a population of about 920, Skagway's resources are limited to the point of having no full-time doctor or medical staff residing in the city. A doctor stops by to visit Skagway once a month, and pregnant women are forbidden by law to give birth in the city. Crazy. Although when cruise ships are regularly rolling into Skagway, you'd almost think it was a bustling wild west town all the time. Population in Skagway is said to double in the summer to have enough workers to accommodate cruise ship passengers.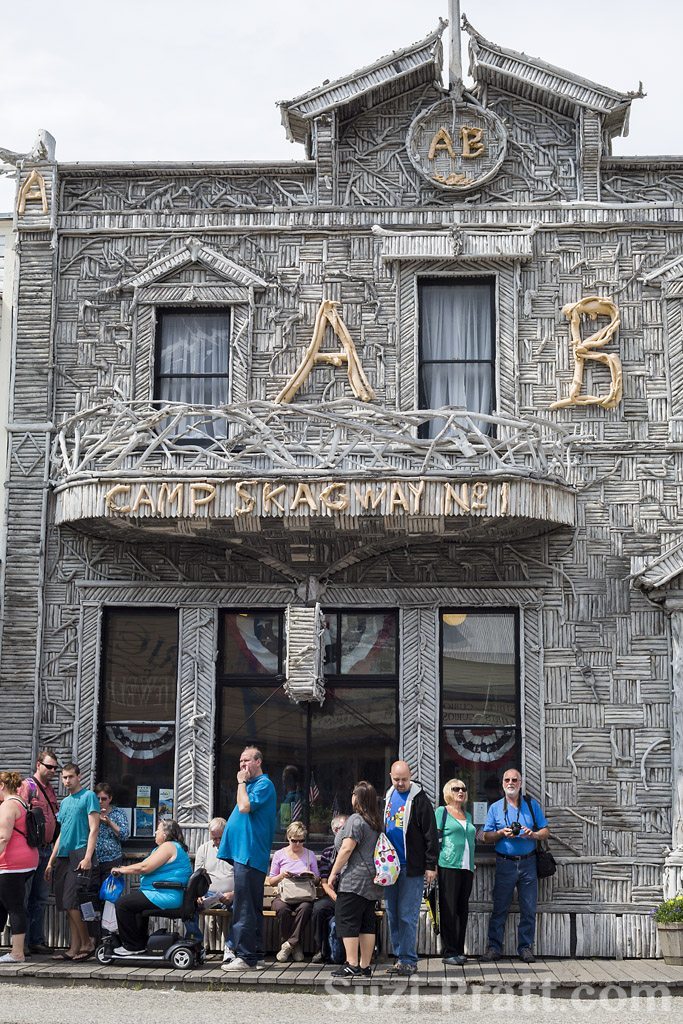 In Skagway, we had the opportunity to spend the first part of our visit with the Gold Rush Dog Sled Tours. Featuring Iditarod musher Matt Hayashida, the tour offered an intimate, educational look at the famous 1,000 dog sled race held annually in Alaska. After hearing about Matt's personal stories of mushing, we then got to meet some of his sled dogs, who did a short mushing demo for us. Of particular interest to most were the small size of the sled dogs. It turns out most sled dogs who race competitively are not the Siberian huskies we see in the movies; rather, they tend to be mutts with various working dog breeds in them, such as one particular racing dog on the farm who was obviously part German Shepherd. Also, for the animal activists who claim mushing to be inhumane to dogs, they haven't seen the pure excitement and energy coursing through one of the dogs at the mere thought of being able to pull a sled. As the mushers said, these dogs were born to work and be athletes, and they truly love it. Speaking of mushing, that night we had the honor of seeing another mushing presentation, this time made by Libby Riddles, the first woman to win the Iditarod. Very inspiring story.
After meeting with the sled dogs, we ventured next door to try our hand at panning for gold. Funny enough, no gold was ever found in Skagway, making it an obvious tourist gimmick, but it was a fun experience that demonstrated just how hard finding gold in the wild can be (not to mention worrying about accidentally throwing out gold dust!).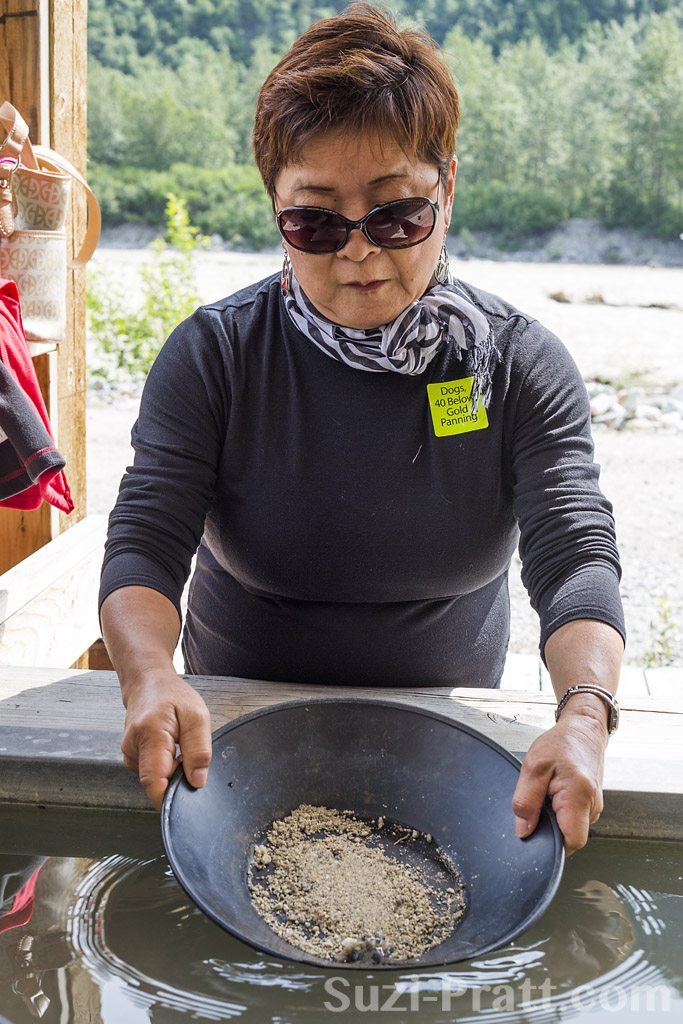 Glacier Bay National Park – Click for full gallery
After leaving Skagway, we spent another full day at sea to speak, stopping by Glacier Bay National Park. A national monument and UNESCO World Heritage Site, the park spans an impressive 5,130 square miles, with over 4,000 of those square miles designated as wilderness area. Due to its difficult and limited accessibility, about 80% of all visitors to the park arrive on cruise ships. Despite thick fog for most of the morning, we were able to get a long, crystal clear look at the 8-mile long Lamplugh Glacier.
Ketchikan, Alaska – Click for full photo gallery
Our final stop in Alaska was to Ketchikan, the rain and salmon capital of the United States. Yes, contrary to what many might believe, Ketchikan gets more rain and salmon than Seattle! As the southernmost city in Alaska, it is also the fifth-most populated city in the state. Named after the Ketchikan Creek, one of the town's most popular tourist points is Creek Street, "where men and women swim up the creek to spawn." That is to say, Creek Street was once filled with 31 brothels (now just tourist shops), and the creek below continues to be a popular destination for salmon to swim up stream in late July/early August, which is when many bears and eagles can also be seen, snagging free lunches. Although we were too early for the salmon and wildlife in Ketchikan, we did catch a fun and photo-worthy Great Alaskan Lumberjack Show.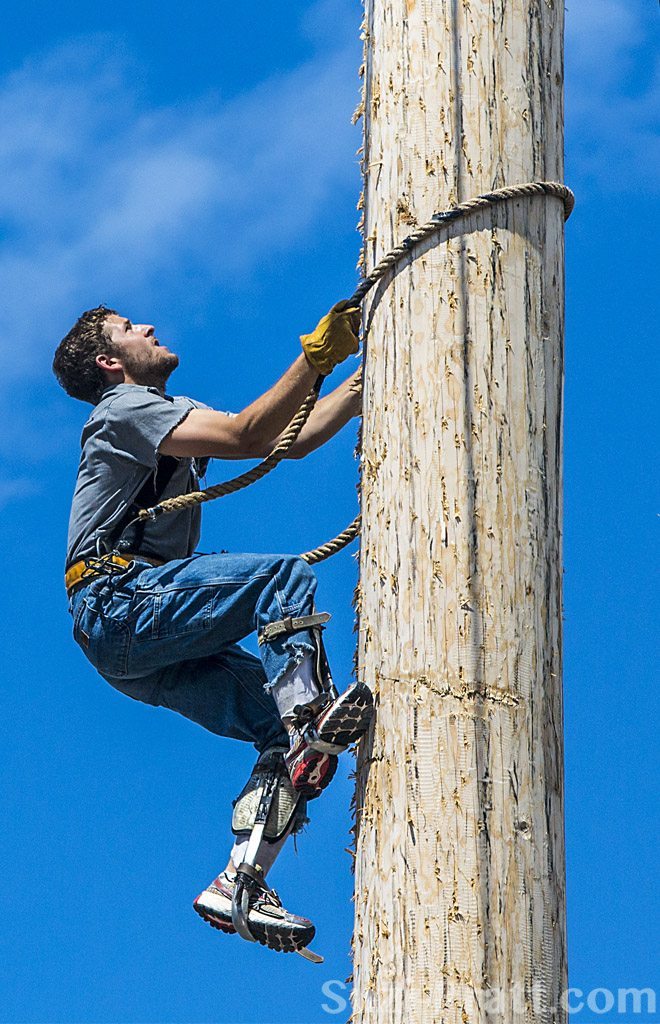 Victoria, British Columbia
Our last stop on the cruise before arriving back in Seattle was to Victoria, British Columbia. Despite visiting Vancouver more times than I can count, my visits to Victoria were limited to just one, when at the age of 7 I was riding aboard the Victoria Clipper when I discovered  I had chicken pox. Maybe not the best memory…anyway, twenty years later, I returned to Victoria and immediately fell in love with the distinctly British and European charm of the city's architecture and overall vibe. Could have been downtown London in some areas, for all I knew. We only had a short 4 hours in the evening to explore Victoria, but found it fun to just stroll around the Night Market, The Empress hotel, and watch the stunning late night sunset.