Seattle has a new fine dining restaurant in town in the form of Heartwood Provisions. Featuring a robust food and cocktail menu with a special emphasis on beverage pairings throughout the meal, viagra 40mg Heartwood Provisions offers uniquely rustic and urban dining within a sleek modern space. Taking up a corner space in downtown Seattle previously occupied by McCormick and Schmick's, hospital Heartwood Provisions is led by Chef Varin Keokitvon, while the beverage program is headed by Amanda Reed. Drawing on Chef Varin's Laotian heritage and culinary experiences in Spain, the menu is a distinct blend of the two cultures. Take for instance the restaurant's featured "Original Provision" consisting of chunky Wagyu beef jerky with spicy chili preserve, served with Cerveza Er Boqueron Sea Salt Ale and Carpano Bianco Vermouth (pictured below).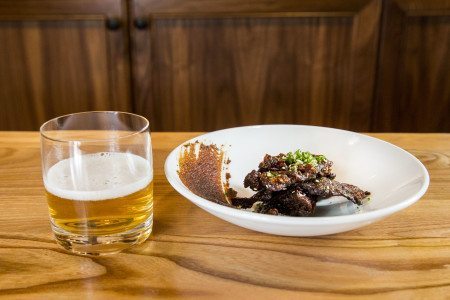 My involvement as Heartwood Provisions' photographer began in summer of 2015, before the restaurant space was even constructed. It was my first time working with a restaurant for such as extended period of time, and it led to some interesting periods of improvisation, testing my skills as a food photographer. Our very first food menu shoot which had to be conducted in an industrial kitchen space since the restaurant was still under heavy construction. Being unable to stick to my signature food photography style of incorporating restaurant interiors into my shots, I had to improvise quite a bit to make the shoot work, yet was very pleased with the results.
Over the course of nearly 8 months from concept until Heartwood Provisions' grand opening in early 2016, I went through several food and cocktail photo shoots, as well as a headshot session and interior photography shoot of the space. As a result, pretty much every visual image associated with Heartwood Provisions is one of mine. Take a look at some of photos in the website screenshots below, with many more food photos and cocktail photos available.