Confession: I set off on this self employment journey with no intention of being a full-time photographer. There are plenty of reasons, rx but it all boils down to this: I've never viewed the field of photography as being a sustainable career with the way the economy and overall job market has been heading over the past decade. One need only look at Fstoppers or any other major photography blog to find all of the tools, unhealthy lessons, order and advice to become a professional photographer. It's almost a sin for other pro photographers to not be spilling their techniques and trade secrets a la creative LIVE or Lynda. I can't hate–these were my photography lessons that taught me what I know. Anyway, my point is being a pro photographer is easier than ever due to resources, but harder as well because competition for paying gigs get stiffer by the day.
As a result, I originally named my business "Altimate Images" with the idea that it would encompass my photography and business development services. Until recently, my business was registered across the board as a marketing agency; I made no industry associations with photography. It was only several months ago when I was doing my accounting that I realized that well over half of my income was coming from photo gigs. It was that realization, along with reading an awesome marketing book, that made me determine that a little rebranding was in order.
"It is no secret that it is a tough time to be a professional photographer. But it is absolutely an incredible time to be taking pictures." – Joshua Trujillo

The first change came in the form of conceding and changing my main website and Facebook page to Suzi Pratt Photo. As my annual income and expenses show, it's almost impossible to not consider myself a full-time photographer any more. I've found that my main website, which I originally intended to be a casual blog and portfolio, has become a major player in winning new clients and business. Thus, the site has needed a shift in focus to become more official. I gave in and renamed it to Suzi-Pratt.com with a main service offering of photography. The old blog that I had here still exists, but it's been renamed to "Latest News," which I think is a more accurate title, considering these posts are largely photo-centric summaries of the latest projects I've been working on.
"Blogging for personal expression is not the same thing as blogging for a business." – Lee Odden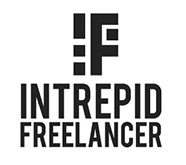 The second rebranding came in the form of my new blog, Intrepid Freelancer. I decided to rebrand my blog for several reasons. First, I wanted it to be a site where I could freely express opinions without worrying about past and prospective clients seeing them on my homepage. Secondly, I wanted a blog that had more of a theme to it, rather than just my random ramblings and brag book of latest photos. Intrepid Freelancer seemed like a keen theme, and thus far it's been a fun adventure building this site up. I strategized for several months before actively publishing and marketing the blog, going over hundreds of case studies and advice for curating an effective blog. Apparently I've been doing something right! Intrepid Freelancer is barely 6 months old with only a handful of published blog on it,  and daily traffic is already on average double that of Suzi-Pratt.com, which has over 4 years of content on it. A good chunk of Intrepid Freelancer traffic results in site visits to my portfolio, which more than pays for itself. This fact alone proves that one need not have an established, highly linked to website to stand out. It's all about the content and stories being published.
"I've always enjoyed traveling and having experience with different cultures and different people. But it's also a wonderful thing to be able to benefit and enable research, not only in our country but around the world." -Laurel Clark

Now that photography and blogging had their own homes, what of business development services? That comes in the form of Gemini Connect, which is what Altimate Images initially set out to be, and more. My business partner and I have an epic 5 year plan for Gemini Connect that will boost it to a whole new level, but for now it serves as our portfolio page for prospective business development clients, all of whom are in the tourism industry.
At any rate, each of the three sites aims to offer something different, and I hope that you will connect with me on one or all of them if you haven't already. See you online!
Suzi-Pratt.com – the (largely) objective photography portfolio site
Intrepid Freelancer – the more opinionated personal blogging site
Gemini Connect – handling all things related to business services and business development