sale on Flickr" href="http://www.flickr.com/photos/spratt504/4254866478/">
Pulpería at Puerto Viejo
Bueno, pues fuimos a Puerto Viejo ayer y ahora estamos otra vez en Limon. (We went to Puerto Viejo yesterday, and I am currently in Limon again as I write this).
Christmas festivities here in Costa Rica are, as expected, a bit different than those in the U.S. Christmas eve, which is when we arrived in Limon, is more of a big deal than Christmas day. When Sara, Kumata and I arrived at the house on Christmas eve to meet la madre de Kumata (Mami), Kumata´s 10 year old brother Krishner, and several young cousins. Mami had been cooking all day, partially because she makes triple servings of a dish, which is then exchanged with the neighbors. The thing we were not aware of is that even though she began cooking at 7am, we don´t eat until late at night (10PM, in our case). Waiting was tortuous, but the meal of pasta, chicken, fish and rice was delicious and well worth the wait. Midnight is when the gift-opening occurs, so over glasses of rosé, small gifts of clothing and cellphones were opened.
On Christmas day, we along with la familia de Kumata and two neighborhood girls, Ashley and Rakea, spent the latter half of the afternoon at the "city beach" in Limon after a morning of getting up at 10am, spending several hours eating breakfast (fried cakes, yogurt, and coffee). The beach there was a bit cloudy, but it had moderate waves that made well for young boys and their six foot tall surfboards.
Monkeying around at Playa Bonita in Limón.
Yesterday was the day after Christmas, and the three women of the house, Mami, Sara and I spent most of the day lounging on the tranquil but beautiful beach at Puerto Viejo, which is an hour bus ride away from Limon. It was a small, lazy beach town with many hostels and the general feel of a surfer community. Perhaps my favorite part of the day was going to a bakery for lunch and getting a bocadillo de tortilla espanol, much like the sandwiches my host mom in Spain used to make us for lunch. That night, Mami also made us one of my favorite desserts from scratch–rice pudding. The only other thing I needed to make it an excellent day of food would be another empanada, which I am delighted to see here in Costa Rica, because they were also one of my favorite treats in Spain.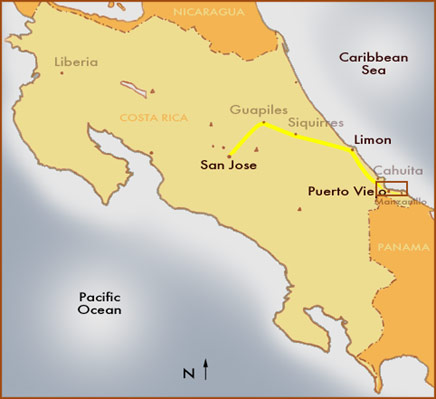 This afternoon, Sara and I will leave Limon for San Jose, where we will re-pack our bags and prepare to head out to Corcovado early tomorrow. Hopefully our actual trip will be less of a headache than the preparations…as an example, to pay the entrance fee into the park, we have to deposit money into the park´s bank account, which we still have yet to do. Anyway, we will be spending the rest of our time in the Peninsula de Osa, hiking and camping through the national park. There will of course be tons of mosquitos and wildlife (including, according to Lonely Planet, peccary), so we are preparing ourselves with lots of DEET, rain boots, and other provisions for ¨roughing it¨in the Costa Rican ¨wilderness¨of sorts. Not to worry to much though, because we will have a guide throughout the entirety of our stay (much to my relief).
So, my closing thoughts on Limon and my first few days in Costa Rica: if there were two things I could have with me right now, it would be tons more DEET and a portable but functional fan. The humidty and mosquito population here are what I imagined Cambodia and Bali would be like, and if I hadn´t been staying in hotels in SE Asia, I probably would have encountered the same situation as aqui. The nice thing is that it cools down enough at night that I can fall asleep in the fan-less and AC-less room that I share with Sara. Citronella candles help keep the bugs away at night, and usually at around 8am, I the heat and buzzing mosquitoes make it uncomfortable to oversleep. Also, I am learning to appreciate the unheated water here–there´s nothing like a cold shower to cool you off for a few minutes, before the heat causes you to start sweating again. Slowly but surely, my Spanish is starting to come back again. It´s a nice sign when I start thinking in Spanish. If only it would flow a bit more frequently…. 😛
Suzi´s Photos of the Day
Since I´m kind of on a beach kick right now, these are from my brief trip Dubrovnik, Croatia during my European backpacking tour. I´m in love with the Adriatic Sea…in my memory, it had some of the warmest water ever, and was one of the most beautiful beaches I´ve seen.