This is part one of my new travel blog series documenting my career break, buy "Where in the World is Suzi?" Thanks to my fellow SSG writer Jodi for the title inspiration. I just spent the past day and a half in Americus, Georgia. Never heard of it? I don't blame you. It's a small town about two and a half hours south of Atlanta, and it's actually where the international headquarters of Habitat for Humanity are located. See any connections? The purpose of this trip was to visit a Habitat friend I'd made on my trip to Cambodia. Of course, I got a quick tour of the Habitat headquarters, and even drove out to the town of Plains, GA where ex-president Jimmy Carter is from, and currently resides. He teaches Sunday school most weekends he is in town, and despite my agnosticism, I would have attended his service, had I the energy to wake up in time.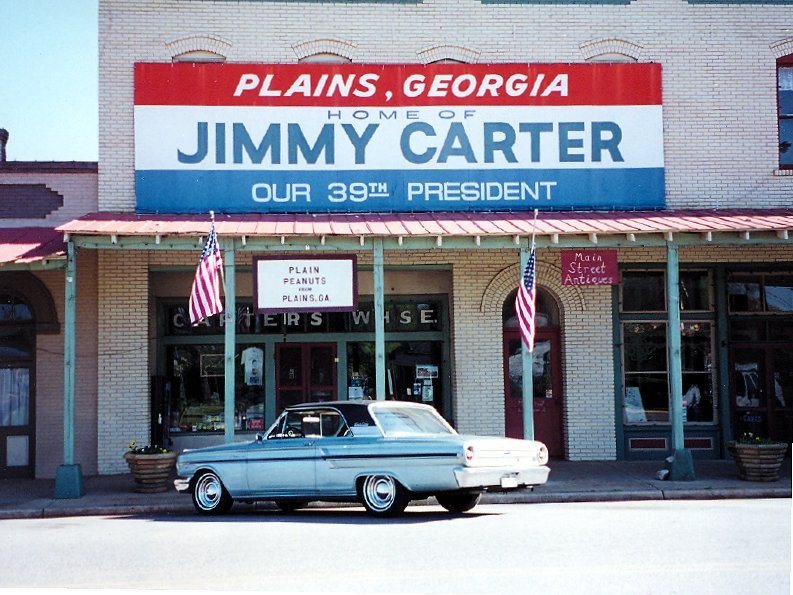 It might be a considered by many as a small town full of "rednecks" and "hicks," but I actually did not encounter any directly. There were certainly signs of outward racism that you hear about in the news, but simply can't fathom. A sheriff's house with a huge confederate flag in the front window. A school teacher's car with a "Bush '04" bumper sticker. The fact that you can't buy beer or go to bars on Sundays. There were all sorts of little indicators that this was not an Obama-loving town and separation of church and state did not apply. I was lucky to hang out with three guys who obviously were not originally from Americus, and did not share the same views as the townspeople. We spent my first night in Americus drinking in the best of the town's only three bars in the historic
Windsor Hotel
. On the whole though, I rather enjoyed being out in the "middle of nowhere." It was quiet, peaceful, relaxing, refreshing, and a nice change of scenery. I am glad that I chose to begin my journey here.
Windsor Hotel in Americus, GA
Exploring Atlanta for the First Time
On Monday morning, I left Americus via a shuttle from Warner-Robbins that took me to the Atlanta (ATL) airport. I caught the ATL metro (MARTA) into Midtown, where my Couchsurfing (CS) host met me and took me out to his shared home in East ATL. Something important that CS teaches you is to trust your instincts, or gut reactions, about people, because most of the time, they're right. In this case, mine were right on. My ATL host came highly recommended on CS, and as one of the city ambassadors who really got the ATL CS community started, I can safely say that he embodies CS ideals and is one of the best CS hosts I have stayed with.
I spent Monday afternoon in the touristy part of ATL, doing the CNN studio tour (CNN´s global headquarters are in ATL), and the World of Coca Cola tour (Coke got its start in ATL as well). Both were rather touristy and seemed geared toward families and younger audiences, but it was still cool to see a major TV network behind the scenes, and, perhaps best of all, sample some 60 different Coke flavors. Ok, it´s not just Sprite and Diet Coke, but it´s variations of Coke products from around the world–I recommend trying the Italian Beverly, and a Coke product in Africa that tastes like pina colada. I was overjoyed that Coke also had a special holiday flavor (gingerbread!) that I probably would have bought in bulk if I had the money and the space. Aside from those two tourist attractions, I didn't bother to see any more, partially because there aren´t many more in ATL anyway.
CNN Studios in Atlanta
That night, my CS host, several of his friends and I went to Eddie's Attic in Decatur to check out their weekly open mic night, where John Mayer supposedly got his start (see the website explanation below). The winner of the evening was King Richard´s Sunday Best…we´ll see if they win big at the Shootout or not! This is a highly recommended event for any music lovers out there.
For over 17 years, we've hosted Atlanta's premiere OPEN MIC for the performing songwriter. National and local acts perform 2 songs each, with 3 finalists returning for a third song at the end of the evening for a chance to win a cash prize and a spot in our bi-annual, nationally acclaimed Open Mic Shootout. These Open Mics are well attended and are once again being hosted by Attic founder Eddie Owen.

The next day, I walked about 6 miles (according to my iPhone) through East ATL and Inman Park until I made it to Little Five Points, a cute area full of coffee shops, second hand clothing stores, and other such things that reminded me of Seattle. After grabbing a gyro and coffee in Little Five Points, I spent the rest of the afternoon relaxing in a Barnes & Noble in Edgewood. That´s something I miss about Seattle–knowing exactly where all of the ¨loungey¨coffee shops with free WiFi are.
Graffiti in East Atlanta
Inman Park in Atlanta
That night, I returned to my host´s house at 7Pm, and was awake until I had to leave for the airport 12 hours later, due to the biggest Couchsurfing party I had ever attended (yes, it beat the CS Seattle holiday party of last year). Since my host is one of the ambassadors, he is well-known among the CS ATL community, and it felt like the entire CS ATL community attended. Throughout the course of the evening, I met tons of CSers from all different backgrounds–those born and raised in ATL, and those who had moved there for work, and of course, other CSers stopping through ATL for a quick visit. There were even a few like myself, who had recently quit their jobs and were about to embark on a traveling adventure, except theirs were to last for a full year, unlike my mere month. They tried at length to convince me to do the same, but truthfully, I don´t know that I have the courage to go that far. Yet. 😉
Some of the many goodies at the Atlanta Couchsurfing Holiday Party
Perhaps the most interesting guy I met didn´t appear at face value to have an interesting story–he appeared to be born and raised in ATL, having never traveled in his entire life, but then he gradually revealed that he spent 8 years backpacking the world, including a crazy story about how he almost made it to Antarctica. I´d give the address to his blog, except it´s not public anymore.
After a majority of the folks I had made initial contact with left the party, and the house was filled with people I didn´t recognize, I tried several times to retire for the evening, but every time I got comfortable, someone would end up in my room, usually a guy complaining about the girl he had brought to the party. As the remaining party people started yelling rounds of drunken karaoke, I accepted the fact that sleeping would not happen that night, and I started talking at length to the stragglers, and was happy I did. I had a lot of good conversations, and really liked everyone who I met in Atlanta. This is a city I plan to return to again.
Now it's off to Costa Rica!
While studying abroad in spring 2007, my friends and I spent a weekend in London with the main purpose of seeubg musicals. We saw Wicked our first evening there, and while my friends were at The Lion King, I opted to explore the city by foot for several hours. I wandered around the SoHo and Piccadilly Circus area of London, just happy as a clam to be hearing English everywhere after spending nearly two months in Spain. I happened to catch a huge anti-Bush and Blair protest going through the streets, and I followed it through its entirety, amused to see street cleaners following the protesters, picking up every bit of trash that was in their wake. Above are some of the photos I snapped.
Rome, Italy, June 2007
This photo of me was taken by my parents at our hotel in Rome at the end of my 6 month European adventure. I sustained myself on all that I could carry on my back, and nothing else. I take a similar minimalist approach to nearly all other travels I go on, including this one.
This is my current backpack, which is actually quite a bit smaller than the one I took to Europe. It fits perfectly into the overhead stowbins on the airplanes, and is filled with half clothing, and half coffee/trailmix/host gifts. I like the minimalist approach to life, learning to live with only your basic necessities and minimal luxuries…it's part of traveling that I enjoy. I finally have an excuse to be offline and not attend to my phone at every beep and chirp it makes. This is the first time that I am traveling with my laptop, intending to make public online blog posts, in lieu of my usual handwritten diaries. This may defeat my purpose of being virtually disconnected from the world, so we'll see how the presence of technology changes my approach to traveling.